The RADIATE Summer School is aimed at doctoral students and early stage researchers wishing to understand the basic physics underlying ion beam techniques. Scientists wishing to refresh their knowledge are also welcome to sign up for the summer school.
RADIATE summer school 2020
The RADIATE summer school 2020 takes place from 3-4 July 2020 in conjunction with the International Conference on Ion Beam Modification of Materials (IBMM-2020), which will be held in Lisbon, Portugal, from 05 – 10 July 2020.
The school will be an excellent ground for early researchers or PhD students get familiar with the basics of Ion Beam Modification of Materials.
The first day will cover the fundamentals of ion solid interactions with emphasis on the modeling of physical processes to describe defect evolution and ion distributions. The relevant codes will be described and both the binary collision and molecular dynamics approaches will be addressed.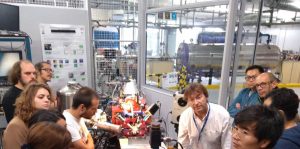 During the second day, the most used software codes used for damage analysis, profile studies and lattice site location of the implanted ions will be presented. In the afternoon, there will be a visit to the ion beam laboratory where the students will participate on the implantation and analysis of a silicon wafer reproducing the doping process used by the electronic industry. At the end the students will be grouped and asked to give a short summary of the highlights of the school.
A group of world experts in the field will guarantee outstanding lectures contributing for the anticipated success of the School.
In the evening of the second day, all the participants will join for a lively dinner at a typical restaurant in downtown Lisbon.
Please check back at a later time for the full program.
RADIATE Summer School participation fee
There will be a participation fee for the summer school. Summer School participants are expected to cover their own travel and accommodation expenses.
However, the RADIATE project is offering 10 grants to cover the participation fee. Travel and accommodation costs of up to 300 € can be reimbursed under this grant as well.
The RADIATE summer school grant does not cover the registration fee for IBMM2020. Unfortunately, the RADIATE project is unable to provide any financial assistance for the registration fee of IBMM2020.
Application procedure
Applications for the RADIATE Summer School 2020 in Portugal can be submitted until March 20th! 
Apply for the summer school here.
The summer school grant is paid as reimbursement after the summer school and includes
the summer school attendance fee
the tutorial dinner
travel and accommodation assistance of up to 300 € in total
Priority in the grant selection procedure will be given to applicants from EU member states as well as associated countries and, in particular, to PhD students.