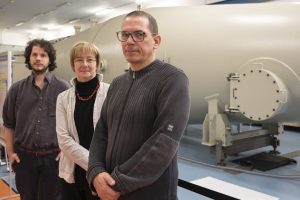 One of RADIATE's goals is to increase technology transfer activities of ion beam facilities. The RADIATE project funds three innovation managers at East European facilities – Ida Srdic at RBI, Croatia, Richárd Rácz at ATOMKI, Hungary, and Andrej Kosicek at JSI, Slovenia.
In the coming years, they will develop business plans for potential commercial spin-offs and attract SMEs to the ion beam facilities by raising awareness of the exploitation potential of ion beam technology, supporting the technology transfer along the whole value chain, and becoming active in spin-off commercial activities. A wanted side effect of economic success associated with the growth of industrial service and technology transfer activities will be a step towards the ion beam facilities' self-sustainability, which is increasingly becoming important.
To get them off to a good start, the RADIATE consortium is supporting the newly appointed innovation managers with a training program and knowledge transfers.
Innovation Manager Training at HZDR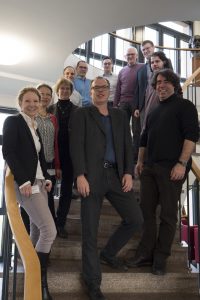 In January 2020, the three innovation managers spent two weeks at HZDR getting to know the local innovation process. HZDR's Technology Transfer and Innovation department fully supported the RADIATE project and organized their stay.
The training program focused on innovation management and technology marketing at HZDR, patent assessment, and intellectual property management at HZDR, amongst other things. Ida, Richárd, and Andrej became closely acquainted with HZDR Innovation GmbH, HZDR's successful spin-off company, and their innovation managers.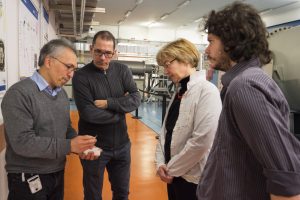 The three also mingled with local spin-off companies and took part in local events of the Silicon Saxony Network and HZDR spin-off alumni meetings. Ida, Richárd, and Andrej met with innovation managers, technology marketing experts, and start-up consultants working for local companies and research institutes. Tours of the HZDR facilities, e.g. the Ion Beam Center, ELBE, and Helmholtz Innovation Labs, complemented their stay.
Later this year, the three innovation managers will undergo training at IMEC in Belgium, where they will also take part in a technology transfer workshop for all project partners' innovation managers. The commercial enterprises participating in RADIATE, namely CAEN, IONOPTIKA, Ionplus, and Orsay Physics, will also be invited to this workshop.