The 10th International Workshop on Nanoscale Pattern Formation at Surfaces (NanoPatterning 2019) is taking place from 07-10 July 2019 at the University of Surrey in Guildford, UK. The workshop is organized by one of RADIATE's project partners, the Surrey Ion Beam Centre.
This year's workshop is focusing on scientific discussions on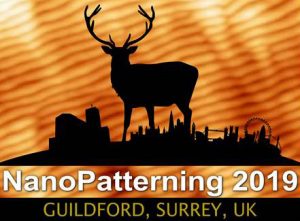 Experimental studies of surface nanopatterning by ion beam sputtering
Pattern formation during thin film growth or photon irradiation
Theory and modelling of surface pattern formation during ion erosion and layer deposition
Surface patterns at the sub-micron scale by Focused Ion Beams
Ion beam structuring and phase segregation in 3D nanostructures
Modification of individual nanostructures by ion beams
Surface nanostructuring with swift and highly charged ions
Theory and computer simulations of ion assisted modification of surfaces and individual nanostructures
Surface patterns by assembling of molecular and biological entities
Modification of surface properties by pattern formation
Applications of surface nanopatterns
Advanced characterization techniques
Abstracts can be submitted until 26 April 2019 and early bird registration closes on 31 May 2019. The normal registration deadline is on 28 June 2019.
Visit the NanoPatterning 2019 website for more information on the invited speakers and the programme.