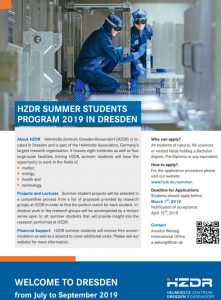 RADIATE coordinator HZDR runs an annual summer school for upcoming scientists. The program runs from July to September and students have the opportunity to work in the fields of matter, energy, health, and technology. This, of course, includes HZDR's Ion Beam Center.
During the 3 months stay, the students will attend lectures and do individual work in research groups. A series of lectures will give the students a comprehensive overview of HZDR's research. In addition, each student will be given a project matching their background. These projects are provided by the research groups at HZDR themselves.
The summer student program's application deadline is 01 March 2019. Apply now to spend your summer at HZDR's ion beam center. For information on financial support please visit the official website of the HZDR summer student program.